Smith Property is a long established property firm serving the county Cavan and surrounding regions. The company's history traces back to 1984 when Padraig Smith opened his first office in Ballyjamesduff and later Cavan town in 1996 as the economy improved. Padraig suddenly passed in 2013 and Smith Property is now managed by Raymond Smith. Like his father before, he is a well-regarded and competent property professional, is a qualified commercial and residential valuer, he sits on the Institute of Professional Auctioneers and Valuers (IPAV) national council and is a stake holding committee member of the PSRA.
The company offers a range of estate agency and professional services from sales, lettings, valuations, management and advisory. Each offices has both permanent and part time staff that all are professionally trained in the area of property services provision. Each auctioneer and negotiator is licenced by the Property Services Regulatory Authority. The company is a proud member of the Institute of Professional Auctioneers and Valuers (IPAV), The Confederation of European Immobilier (CEI) and The European Group of Valuers (TEGoVA).
Our property services extends to many valued clients in Counties Cavan, Meath, Monaghan, Westmeath and Leitrim.
Our LOCAL KNOWLEDGE combined with years of experience, technology investment, professional staff, eye catching brand make us your winning team to deserve you BETTER RESULTS.
Our Team
Raymond Smith – Managing Director
RAYMOND took charge as Managing Director of the company in 2013 which was founded by his late father Padraig.
Raymond decided to re-brand the company in 2018 to Smith Property and the company has grown from strength to strength under his leadership. Raymond has many years experience in the property industry where he has gained an indepth knowledge covering all aspects.
Raymond is a member of the Institute of Professional Auctioneers & Valuers (IPAV) where he also sits as a national council member. He is a registered TEGoVA Commercial & Residential Valuer (REV). He is a fully licensed property services provider through the PSRA.
Ever the professional, Raymond has a keen eye for detail which comes to the fore when conducting business. Pleasant, approachable and hard working he strives to provide an exceptional professional service to all clients.
Raymond is a Castlerahan GAA fanatic. He also enjoys playing golf and swimming in his spare time.
If you wish to contact Raymond direct, you can do so by emailing: raymond@smithproperty.ie
Geraldine Muldoon – Valuations Administrator
GERALDINE, is the longest serving team member having started working with Padraig on Market Street in 1984. Originally from Ballyjamesduff but now living in Lavey with her family.
Always a welcome genuine greeting from Geraldine when you enter our office or speak with her on the phone, this lady keeps a tight track on our valuation services which are an invaluable part of our business. Her attention to detail, ability to find anything and report compilation is second to none. A loyal and compassionate lady. A Lavey GAA fanatic in her spare time.
If you wish to contact Geraldine direct, you can do so by emailing: geraldine@smithproperty.ie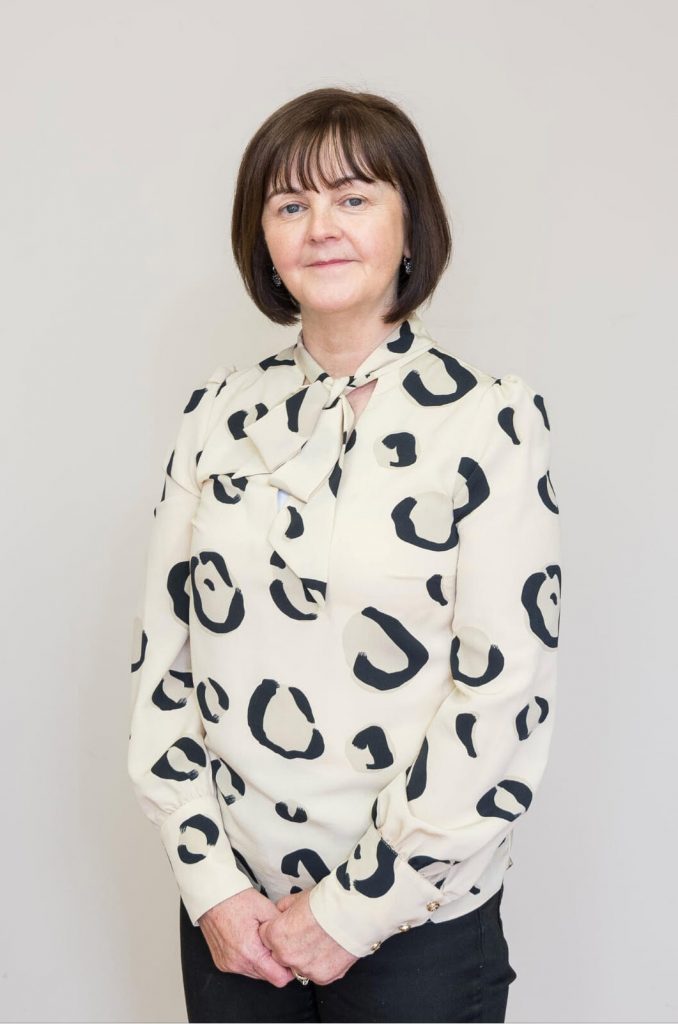 Margaret McCabe – Director, Lettings and Accounts
MARGARET, sister of our late founder Padraig joined the company in 1998 having spent many years working locally in Ballyjamesduff Livestock Mart. Originally from Lavey but now living in Crosserlough with her family.
Her upbeat personality and friendly smile greets anyone she meets. Margaret is the real boss and keeps track on the day to day running of the company financials from client accounting, property management and office accounts. She is a grafter who leaves no stone unturned and always exceeds our clients expectations. Margaret is also a licensed property service provider through the PSRA. In her spare time she is a keen gardener and beautiful singer.
If you wish to contact Margaret direct, you can do so by emailing: margaret@smithproperty.ie
Rachael Green – Sales Support
RACHAEL is the latest member of our team. Rachael is from Virginia and is living with her family in Ballyjamesduff.
You could speak with her on the phone, meet her in the office, at viewings or in our company branded car. Always helpful, pleasant and professional in her dealings with anyone she meets.
If you wish to contact Rachael direct, you can do so by emailing: rachael@smithproperty.ie
Noeleen Devine – Office Manager
NOELEEN is with us for a number of years now having spent time in banking in Dublin. Originally from Crosserlough but now living in Laragh with her family.
Her radiant smile is the first you meet entering our office and more than likely she is the first person you'll speak to if you phone. Noeleen is responsible for the smooth running of our offices looking after many aspects. She is also holds a compliance qualification and deals with the company's many compliance documents. Noeleen is passionate about her job, very approachable and competent in all her dealings with anyone who she engages with.
If you wish to contact Noeleen direct, you can do so by emailing: noeleen@smithproperty.ie
Leanne Fay – Trainee Estate Agent
LEANNE is our most recent team member and joins us from years working in the hospitality sector. Leanne hails from Denn parish just outside Cavan town.
Leanne is our trainee estate agent with sights on completing the relevant education and training to become a licensed representative of Smith Property. She works closely with the directors to get an insight into all a aspects of the property services business. Leanne's years working in the hospitality sector has benefited her with excellent interpersonal, communication, organisational and teamwork skills that are already shining through.
If you wish to contact Leanne direct, you can do so by emailing leanne@smithproperty.ie.